COD: DMTO012 - EAN: 8056095440445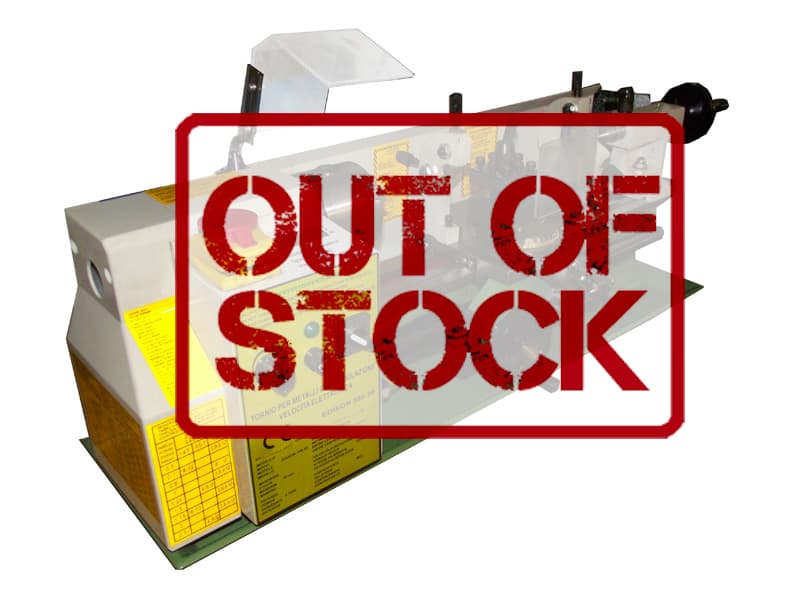 If you need more information on this product write us here (without any commitment) and specify your interest
Instead, use this link to request the new damatomacchine product catalog for free with all our machine tools
List price :1.487,00 € - PROMO: 1.090,00 € (VAT Included)
Terms of sale - Returns and Refunds Policy
DESCRIPTION
Small lathe for working metals equipped with electronic speed variator able to change in the running spindle speed dropping from a minimum of 100 to a maximum of 2500 revolutions per minute.
The main structure of the lathe is made from sturdy cast iron while the transmission shafts, bearings, gears and guides are made ​​of steel. The engine that powers the machine is a powerful single-phase 600 W.
The machine was built to CE norm and has emergency button for the immediate arrest and all other safety devices necessary to work in complete safety. In the standard version, the lathe is sold with 3-jaw chuck (3 + 3 internal external), kit and gear wrenches and tailstock fixed type with conical MT2.
Zoom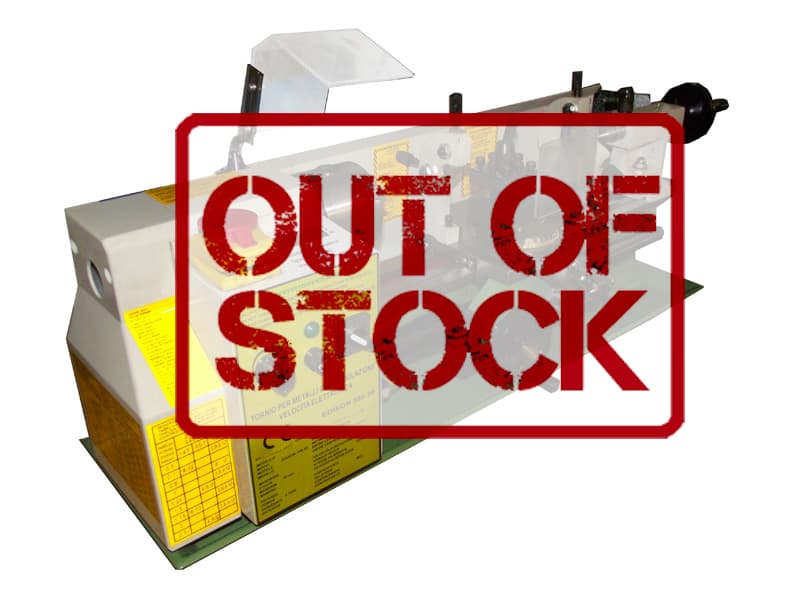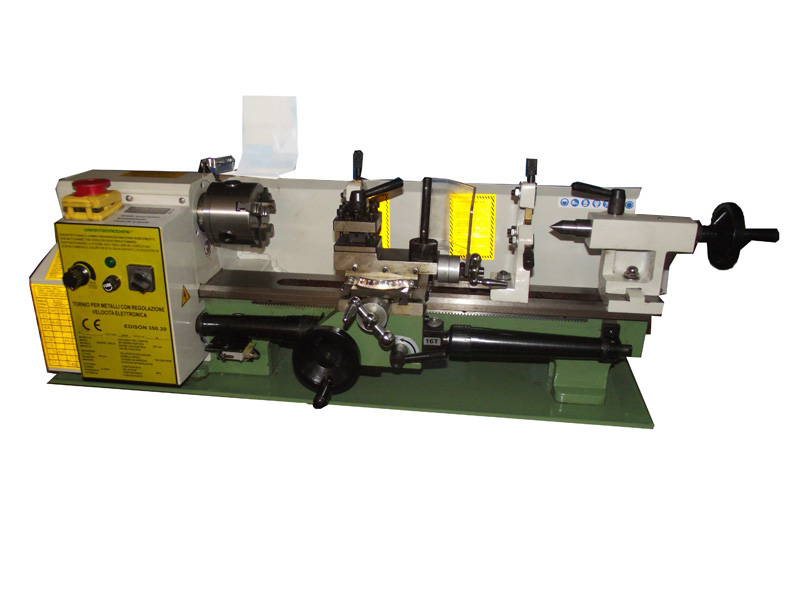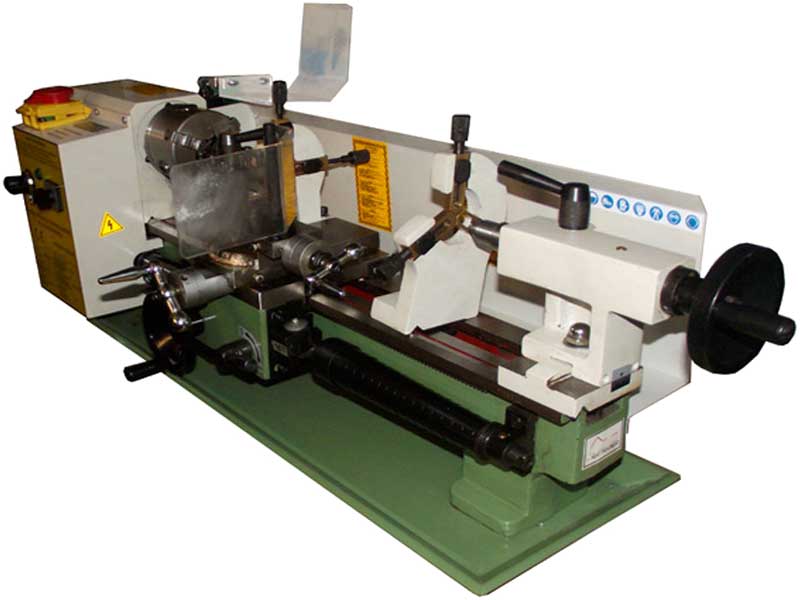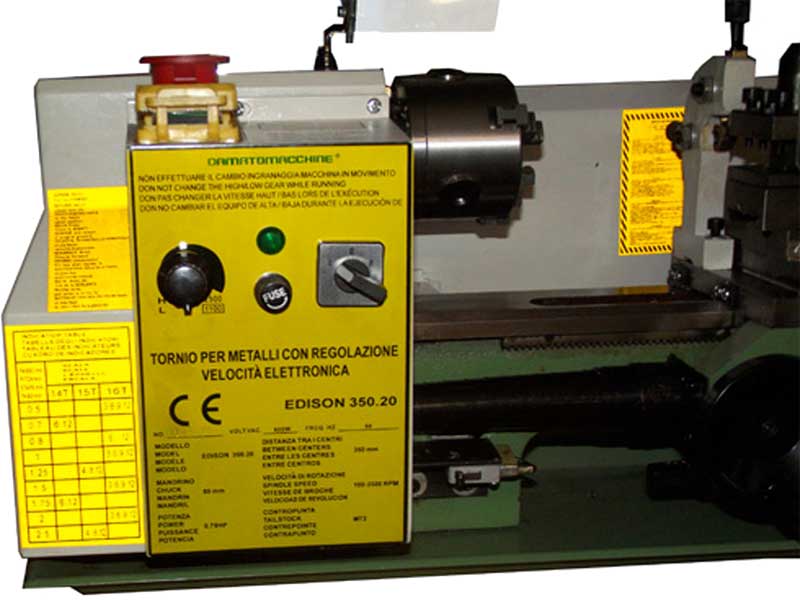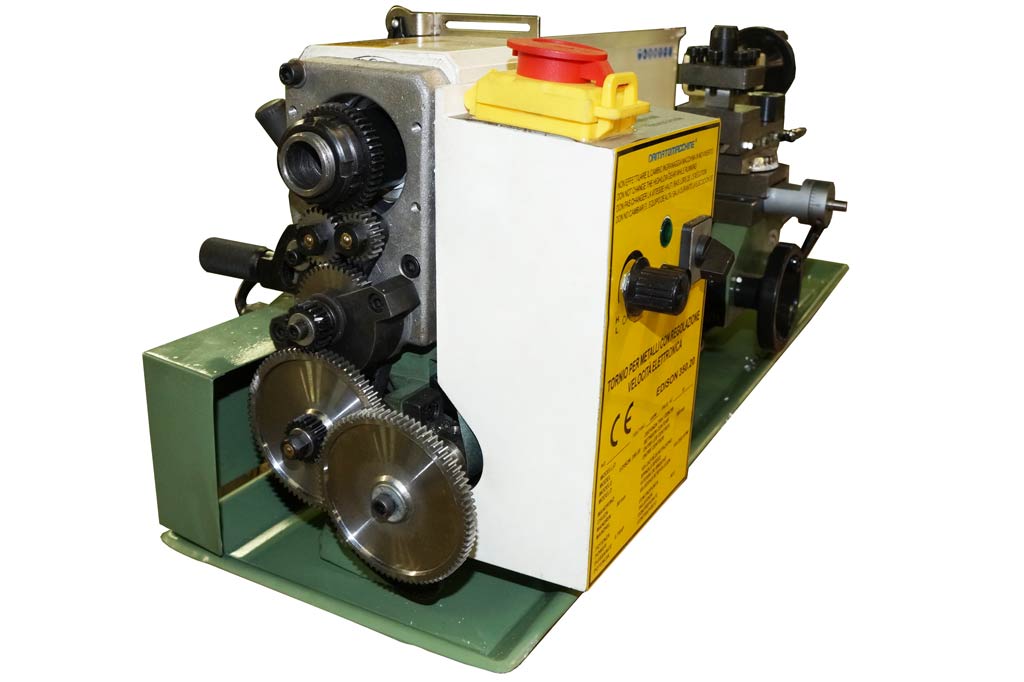 Shipping costs for Ireland: 164,00 € (VAT Included)
We ship worldwide, for any information concerning the shipping costs in your country (as well as for billing, merchandise returns or other) write us through this web page or if you prefer, call us directly to our phone numbers
Technical data

MACHINE DIMENSIONS
Package dimensions
820 x 310 x 320 mm
Machine dimension
900 mm (length) x 320 mm (height) x 240 mm (width)
Gross Weight / Net Weight
45 kg / 40 kg
TECNICAL SPECIFICATION OF LATHE
Distance between center
350 mm 
Max swing over the bed
180 mm 
Spindle bore taper
MT3
Tailstock taper
MT2
Chuck diameter as supplied
80 mm
Spindle bore
20 mm 
Self-centering standard chuck hole dia
16 mm 
4-jaw chuck hole dia ( sold separately)
20 mm
length table
65 mm
Longitudinal travel
35 mm
Metric threads
0.5-2.5 mm 
Spindle speed
100-2500 RPM
MOTOR
Powerful
600 W
Type
Single phase 220V/50HZ
Accessories Available for Mini Lathe Edison 350
Fixed Steady rest for Lathe Edison

(Cod: DMACTO120)
Lateral steady rest for Lathe Edison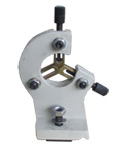 (Cod: DMACTO121)
Lathe Plate Ø 125 mm

Lathe Plate for mini bench lathe
(Cod: DMACTO122)
Quick-change turret for Mini Lathe Edison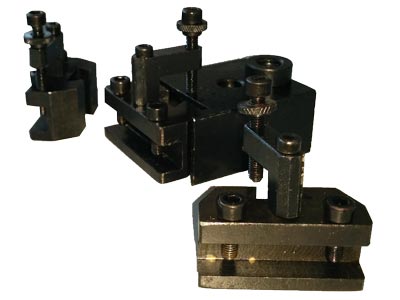 (Cod: DMACTO123)
129,00 € ( VAT included )
Chuck with 4 independent calipers Ø 80 mm

4 independent collet chuck with a diameter of 80 mm: for Edison lathe
(Cod: DMACTO124)
162,00 € ( VAT included )
Braised tool kit working iron width 10 mm - 11 pieces

Braised tool kit working iron width 10 mm - 11 pieces
(Cod: DMACTO125)
Live center chuck - Taper CM2

Live center chuck - Taper CM2
(Cod: DMACTF42)
Live Center Morse Taper MT2 for bench lathe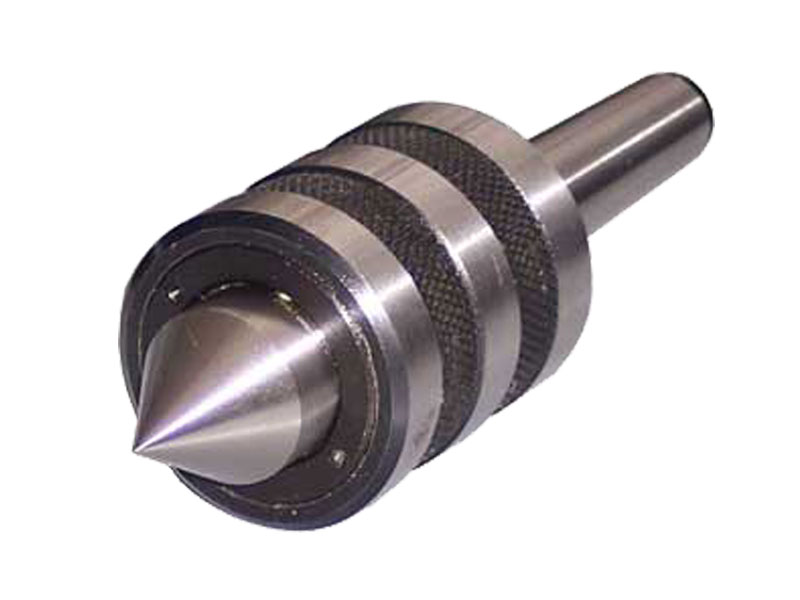 Rotary tailstock for lathe with MT2 type connection
(Cod: DMACTF02)
DVD on Lathe EDISON (Italian Language)

(Cod: DMACVHS4)